Yun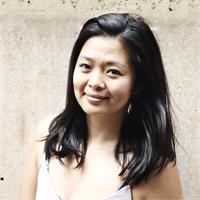 Yun loves all kinds of movement. She dedicates most of her time to practicing and teaching yoga and meditation, then the rest to pilates, barre method and many other types of expressive, intelligent movement. Yun also enjoys cooking up new salad recipes, blending smoothies and taking very long walks in nature.

She loves the practice of yoga simply because you can start wherever you are. It does not matter what injuries one has, how much one can bring hands to touch the toes or how many handstands one can do in a minute. As long as you want to, you can, but with adequate lessons and attention. With 6 years of yoga teaching and 11 years of mat practice, she is extremely humbled to guide yogis in Paris through the knowledge she has received from her teachers over the years.

Her influence includes teachings from the Anusara method, Ashtanga Vinyasa, Yin Yoga, Jivamukti and AcroYoga.

Yun does not currently teach any regular classes with us.
Yun is currently not instructing any classes.