Alice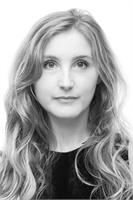 Alice has her mother to thank for introducing her to the wonders of Yoga and of Paris. After several special trips to Paris with her mother as a child and teenager, Alice began to dream of one day living here. So, she finally booked a one-way ticket from the U.K. (her home country), packed her bags, and made that dream come true.

She started practising Sivananda Yoga with her mother when she was 15, and over the years has experimented with many types of Yoga, including Ashtanga, Hatha, Jivamukti, Yin, and Restorative.

She completed her 200 Hour Teacher Training in Ashtanga Vinyasa Flow at Sampoorna Yoga in Goa, India. She has long been drawn towards Eastern philosophy, and is as concerned with the spiritual elements and benefits of yoga as the physical.

Outside of class, Alice is a writer and music journalist, specialising in interviews with hip-hop artists. Music is an integral part of her life, believing that listening to music has the potential to be a sublimely spiritual experience. She simply loves to combine yoga practice with the sonic vibrations that too stir her soul.

In her Vinyasa Flow classes you can expect to move, stretch, and sweat through dynamic sequences, with an emphasis on syncopating the breath to movement. And, of course, to hear lovingly curated playlists of underground and old school hip-hop.

Alice does not currently teach any regular classes with us.
Alice is currently not instructing any classes.